Velo Village -Bicycle Heaven on Earth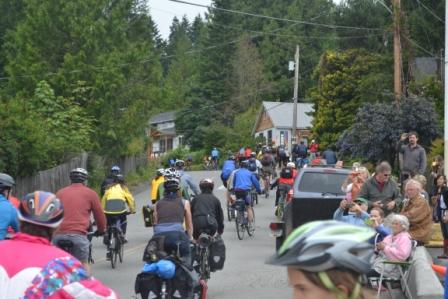 Bicycle advocates and activists may be aware of the Velo-City event sponsored by the European Cyclist's Federation. That big three-day event focuses on urban cycling issues receives lots of coverage from the bicycle and sustainability communities.  But, are you aware that this year, a savvy group of ruralites from tiny Salt Spring Island, BC, refused to let the pricey fees and urban focus of Velo-City exclude them.
Their solution? Create a festival and conference centered on rural cycling mobility, and Viola! Velo Village was born. Having a much smaller budget, Velo Village relied on the talents and energy of volunteers to host an influx of several hundred cyclists, entertain them, educate them, and lead them on rides around the island.  While my budget didn't support attending the premium fees of Velo-City, Velo Village was very affordable so I signed up.
I made sure that the part of the trip that required me to drive (Portland to Anacortes Ferry Terminal) had at least one seat beside my own filled with a passenger. So,  I picked up a friend (Ellee) and off we went to Anacortes.  Besides having a better person/mile/gallon ration, Ellee was essential in helping me get the BionX equipped Bullitt off of the roof rack. Thanks Ellee!
Ellee also received my help. She's the author of Cycling Sojourner and was one of the featured speakers at Velo Village, so was taking along a box of books. Her 60 books nestled nicely in the waterproof, lockable box on the Bullitt but that extra weight made me very grateful for the electric-assist as I rode off of the ferry and onto Salt Spring Island. Salt Spring is lovely  but its first hill is rather steep, up to 15%. My bike and legs were truly tested. After dropping Ellee and her books off at her home-stay near the top of that hill, I carried on towards the town of Ganges.
It's on that ride that I knew that Velo Village would not be your average cycling event. Dozens of carefully painted and decorated bikes lined the 15k route toward town. Every few miles Berma Shave-style signs gave me encouragement, or confirmed for me that "Bikes...Are...Fun."  It was obvious that the island residents had worked hard on embellishing the route to town.
Arriving in town, more decorated bikes everywhere! I couldn't even begin to take pictures of them all. Businesses had signs proclaiming "Welcome Cyclists."
Soon, it was time to head to the opening event of Velo Village, the Canadian premier of Reveal the Path. It was then that I learned that the theater is about 3 K out of town. Oops; so on went the assist on and over the hills I went, arriving just in time. As I sat down in the theater another Oregonian, Alex Phillips the Oregon  Bicycle Recreation Coordinator, greeted me and we shared pop-corn and watched as four amazing mountain bikers toured the world on the big screen. I emerged from the movie theater to discover a crowd around my bike. The Splendid Mobile does usually attract attention and this was no exception as these cycling fans found it a real novelty.
The Splendid Mobile is a Bullitt Milk Plus with a Bionx PL 350 assist, white powder-coated Huckleberry Alloy Box, and Shimano dynamo hub with Supernova E3Pro head light. It's decked-out and sharp looking BUT nearly everyone takes it for an ice cream bike. The error occurs here in bike-savvy Portland as well as rural Salt Spring Island and everywhere in between. What I found interesting is how many more Canadians immediately recognize the e-assist. There are far more people up there that spotted the BionX and knew what it was than I meet here in bike town (Portland).
This was not to be the last crowd to surround me during the trip. Over the next couple of days my travel companions got accustomed to entertaining themselves and waiting for me while I shared information about cargo bikes, disappointed many a passerby by NOT offering them ice cream, or talked tech about the electric assist.
Velo Village offered entertainment but also all of the wonky policy talk an ex-city planner could want. Friday's agenda was full of presentations on topics ranging from cycle tourism to rural cycling education programs. One of the highlights for me was a presentation by Christina Benty, Mayor of Golden, BC.  Golden is a tiny rural town of just under 4000 people nestled in the mountainous Kicking Horse country; it has to be one of the smallest towns with a bike share program. Yes, a bike share program!  This city understands the importance of bikes and peds! According to Benty, supporting active transportation is "no more anti-car than healthy eating is anti-food." Well said, I'd say.
Another highlight of the event was the SRAM pArt Project.  This project is simple: provide bike parts to artists, have the artists create, auction off the art, and donate proceeds to the World Bicycle Relief program. The art created by the talented artists that call Salt Spring home was amazing. Mobiles, sculptures, even a kaleidoscope showcased the artists' talents. The Velo Village project raised more than $22,000 for this program that "is dedicated to providing access to independence and livelihood through The Power of Bicycles."
At the end of Friday, I was already convinced that the long trip from Portland to Salt Spring Island had been worth the effort. But, the Islanders had only begun to roll out the welcome mat. For, on Saturday morning the first all-bike BC Ferry was to arrive carrying nearly 300 cyclists, and nary an auto.  I rode the hill and dale from Ganges back to Fulford Harbor to greet the incoming ferry. I was not alone! The usually quiet village of Fulford swelled as people from other parts of the island amassed in town in anticipation of the bike ferry's arrival. As it neared we could see the bright jackets and jerseys of the cyclists and hear the live music of the on board band. The excitement grew. At last the ferry landed. What a sight!
Soon the cyclists were pouring off of the ferry and heading up the hills of Salt Spring toward the town of Ganges. Bikes and cyclists of all types cruised by, everyone smiling, laughing, and excited to be riding after such a warm welcome.
As the crowd waned, I too rolled onto the coarse. Nice and steady with the Splendid Mobile over the big hills, down the big hills, once more past all of the decorated bicycles, but this time past lots of cheering and waving residents,  lemonade stands and rest stops, and volunteers directing traffic. What I didn't see were a lot of cars. The whole town-bound route was closed to traffic for the ride! Smart move event planners; I can't imagine how difficult it would have been for cars to pass our parade. Best to just reroute them for a few hours. As I pedaled along, I passed cyclists on tandems, mountain bikes, and Dutch bikes. Cyclists with kids and camping gear in tow. Cyclists with friends, family, dogs...even another cargo bike!  My high from that ride lasted well into the next day.
The rest of the day was a blur. After arriving in Ganges at the event bike parking area, I was barely able to stray more than a few feet from The Splendid Mobile. I spent the next few hours talking about cargo bikes, offering test rides, and generally socializing with the Velo Village participants. It's clear to me that cargo bikes are still a novelty there but with events like Velo Village advocating for rural cycling improvements I can see a future where  a cargo bike is just another bike in the crowd, and not a novelty. With the compact nature of the island,  I can imagine a day when cargo bikes are as common as pick up trucks. Although hilly, distances are relatively short, and roads very pleasant for cycling (although many non-cycling residents don't think so). 
I hope that this is the first of many Velo Village events and as the event matures and grows in scope discussions expand beyond just moving people to how to move goods and equipment by bike.  I can imagine fresh produce going to the farmer's market, tradesmen and women traveling to jobs, and even perhaps something akin to a bike move, all easily completed because of the strong community spirit present on the island. There's just so much possibility for cargo bikes in rural communities like Salt Spring Island.
My sincerest thanks to the organizers and volunteers who made Velo Village possible! Thanks too to all of the Salt Spring residents who created an most welcoming atmosphere for the visiting cyclists. Salt Spring is indeed Bicycle Heaven on Earth!